The general public may see buildings and structures rising all over New York and the Tri-State area. However, most people do not consider the importance of what is happening below the ground. Since the Northeast is fraught with flood zones and unstable ground, MacLean Dixie's helical pile foundation systems have proven to be a vital solution.
As an important piece of underground construction, helical piles are a versatile and cost-effective solution. But, what is a helical pile and what are they used for? Here, we will take a look at the basics of helical pile foundation systems.
What is a Helical Pile?
In short, helical piles provide the same function as other foundations: to support the weight of any structure. Multiple helical piles (also known as screw piles or helical anchors) are driven deep into the ground in order to bear the weight of structures such as houses, boardwalks, buildings, bridges, and more.
They consist of a central shaft in addition to one or more helix-shaped bearing plates, and brackets that allow them to attach to a structure. There are various types of plates, sizes and shapes available for helical piles. The weight of the foundation, in addition to the type of soil, determine what kind of helical pile is best for the project.
---
How Do Helical Piles Work?
Helical piles are driven into the ground until they achieve a desirable load capacity. Little to no earth is displaced during the construction, so there is no detrimental effect to the environment. In order to share the weight of the structure, helical piles are spaced out in intervals. Brackets attached to the structure allows the weight to be transferred to the piles.
Basically, when the soil below a structure is weak or the existing foundation is damaged, helical piles provide long-lasting stability.
---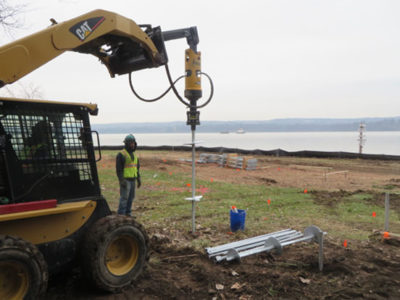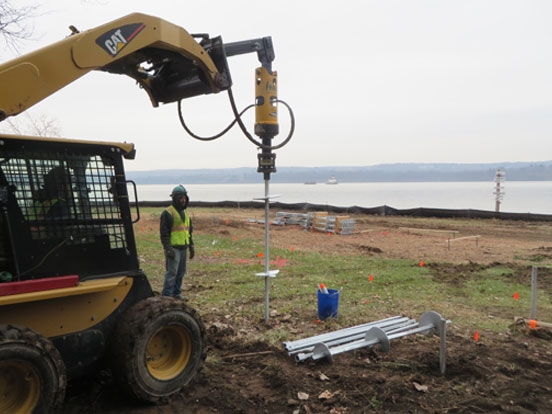 What Are Helical Piles Used For?
There are many popular uses for helical piles, in both residential and commercial spheres. Some of those include:
Foundations regularly exposed to high water content
Projects cited on unstable soil
Foundation or structural damages that appear in existing buildings
Stabilization of weak foundations or to rectify foundation errors
Other uses include foundations under porches, decks, or small home additions. They are also beneficial for foundation construction for boardwalks and docks at marinas or beaches. Recently, however, the most common use for helical piles has been for stabilizing, or even raising, settled buildings. Many homeowners in the Northeast have used helical piles to repair their homes after Hurricane Sandy.
---
When to Use Helical Foundations?
Helical pile foundations are used in new construction when soil is weak or not suitable to prevent excessive settlement. Inevitably, this will lead to major structural and safety issues.
Additionally, helical screws are used to repair and restore existing structures. Whether being used in conjunction with materials for waterproofing a basement or simply recovering from foundational damage, helical pile installation is quick and easy.
Common Applications
Foundation support to correct cracked walls, as well as uneven floors and doorways
Pipeline and utility tie downs
Slope stabilization and retaining walls
Deep foundation for new construction
---
Conclusion
In conclusion, helical piles are an advantage to the construction industry. Are you a contractor who is using steel and concrete mixtures? If so, then you are missing out on some key benefits of helical piles. For more information on how helical piles can save you time, physical work, and money, contact Premium Technical Services today.