In areas of poor soil conditions, the proper steps must be taken to ensure that the foundation remains stable and level. In order to provide adequate foundation support, a deep foundation system must be implemented. The most versatile deep foundation system on the market today are helical piles, or a helical screw foundation. Helical piles offer many advantages over traditional pile systems (wood, concrete, auger cast, etc.).
With single pile capacities up to 350,000lbs, helical piles ideal for all types of projects and soil conditions.
Premium Technical Services has provided steel anchor systems and foundation systems since the 1980s. With this unparalleled experience, Premium Technical Services continues to offer engineered solutions to take all type of soil mechanics. Following strict ICC AC358 criteria for all foundation products, Premium Technical Services is able to offer optimal performance and versatility to any new or repair construction project.
The Helical Pile Advantage
No vibration
Can be installed directly adjacent to neighboring structures
Limited access installations
High productivity rate
Immediate loading
Immediate load testing possible
No spoils
Year round installation
Predictable and reliable performance
Installed with a variety of lightweight equipment
Easy installation Increase Productivity, Easy Removal Makes it "Green"
For easy installation, helical leads are simply rotated down into stable soil by using hydraulic drive head equipment. There's no excavating or spoils to remove. No hammering or vibration that can disturb surrounding structures. And connecting bolts are no longer subjected to stress during installation.
The Strength Squared™ Coupling System's unique design means bolt-holes easily align for faster assembly. The square upset socket allows a simple hydraulic drive head to make full rotation into the ground without having to bolt on the next pile. Installers can then attach the necessary bolts at ground level, instead of over their head. Therefore, tight quarters are no longer an issue and productivity is maximized because of the MacLean Power Strength Squared™ Coupling System. Ultimately designed to remove stress from the connecting bolts and pile, Strength Squared™ actually improves the ability to install piles rapidly.
This easy to install design also means easy removal for future ground usage. No longer are piles left below ground because the bolts have sheared the connection. The Strength Squared™ coupling system and pipe piles remain undamaged. So they can simply be rotated in reverse using the same hydraulic drive head equipment, therefore leaving a greener environment.
For newly constructed foundation, finished piles are then capped and/or bolted.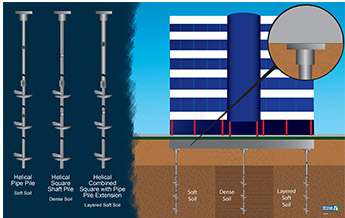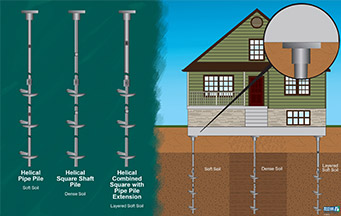 Squared Strength™ Features and Benefits
For tension and compression loads
For new foundations construction or repair
Installs with no spoils
Installs with no vibration
Strength Squared™ Coupling System-Installs with no damage to pipe or bolt
Available for immediate use-no concrete or grout cure
Improved productivity
Greater torque capacity for size-best performance value
Best used in dense soils where higher torque requirements are needed
Helical pile anchors may be removed leaving a green environment
Available standard hot dip galvanized ASTM A-153 or black (not coated)
Installed and warranted by experienced factory-certified installers
Products warranty by factory
ICC AC358 Acceptance Criteria for Helical Foundation Systems Devices Tests